Xie xie... thank you... to all of the families of our Chenzhou Families group who contributed donations to our 2004 Washer - Dryer - Infant Incubator Project!
Our Chenzhou Families community of families contributed enough funds to purchase all three major items on our orphanage wish list! Shown below are photos of the installed appliances, sent to us by Mr. Shi, Director of the Chenzhou Social Welfare Institute. (Click each photo to view a larger image).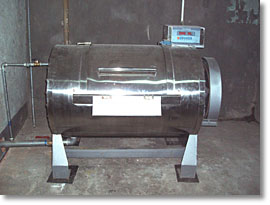 Commercial (Clothes) Washing Machine
This commercial sized washer and dryer units are going to be of great assistance to the orphanage staff. Director Shi said that prior to receiving these appliances, six orphanage staff members did laundry full-time. With these new machines, he believed that only two staff members would be required to keep up with the same amount of laundry. We are hoping this will allow staff members to spend even more time with the children.
---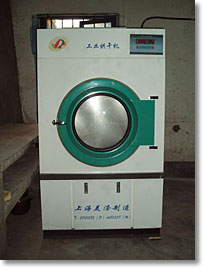 Commercial Dryer
---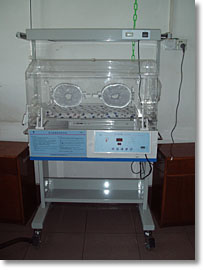 Infant Incubator
This infant incubator was high on our orphanage wish list, because the local hospital in Chenzhou had recently contacted the orphanage requesting that they take over the care of two premature baby boys.
While it is nice to be able to reduce the orphanage workers' work-load of laundry with the purchase of a washer and dryer, it is especially rewarding to be part of a project that really has the potential for saving lives! This infant incubator truly has that potential.
Thanks again to all of our families who participated in our 2004 Washer, Dryer and Infant Incubator Project! We worked as a team... and we got the job done! Congratulations everyone!
---
---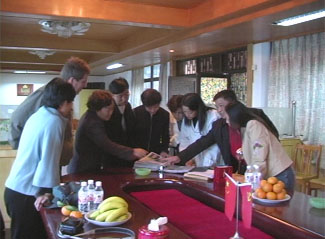 Mr. Shi, Mrs. Wang and other high-ranking orphanage
staff members looking through the 2004 Chenzhou Families Portfolio.
From left to right:
Nancy our interpreter, critical to the success of our trip... the best!!! (F)
Tom (Emily Ying Xi's Dad / Chenzhou Families Administrator) (M)
Liao Zhong Min, Assistant Director (F)
Mr. Chen, our driver and colleague of Nancy at the Chenzhou University (M)
Name?, orphanage worker (F)
Huang Zhou Fang, Chenzhou Orphanage Doctor (F)
Wang, Zhi Peng, Vice-Director of Orphanage (F)
Shi, Xiang Qun, Director of Orphanage (M)
Name?, orphanage worker (F)
Note: Can anyone positively identify either of the un-named women above. If so, please contact Tom(Emily Ying Xi's Dad) by email. Does anyone know which woman is Liu Zhi Hui?